Kentucky Dual Credit Scholarship
There are two scholarships for which dual credit students may qualify. The Kentucky Dual Credit Scholarship will cover tuition for two courses per year in general education subjects for juniors and seniors. Students may, however, take more than two dual credit courses at the 50% tuition rate, if they are willing to pay for them themselves. The Work Ready Kentucky Scholarship will cover tuition for up to two technical courses per year for freshmen through senior years. That gives each student a total of eight scholarshipped CTE courses over their four years in high school.
With both of these scholarships, a paired lecture and lab class will just use one scholarship, i.e. BIO 112 & BIO 113 or WLD 130 & WLD 131. Also, the scholarships are not limited to a certain number of credit hours in a course. So, use them for a lecture+lab pair, or a course that is worth more than the typical three credit hours (PLTW is four credits and calculus is five credits). So, students get more bang for their buck if they use the scholarships for higher credit hour courses or pairs.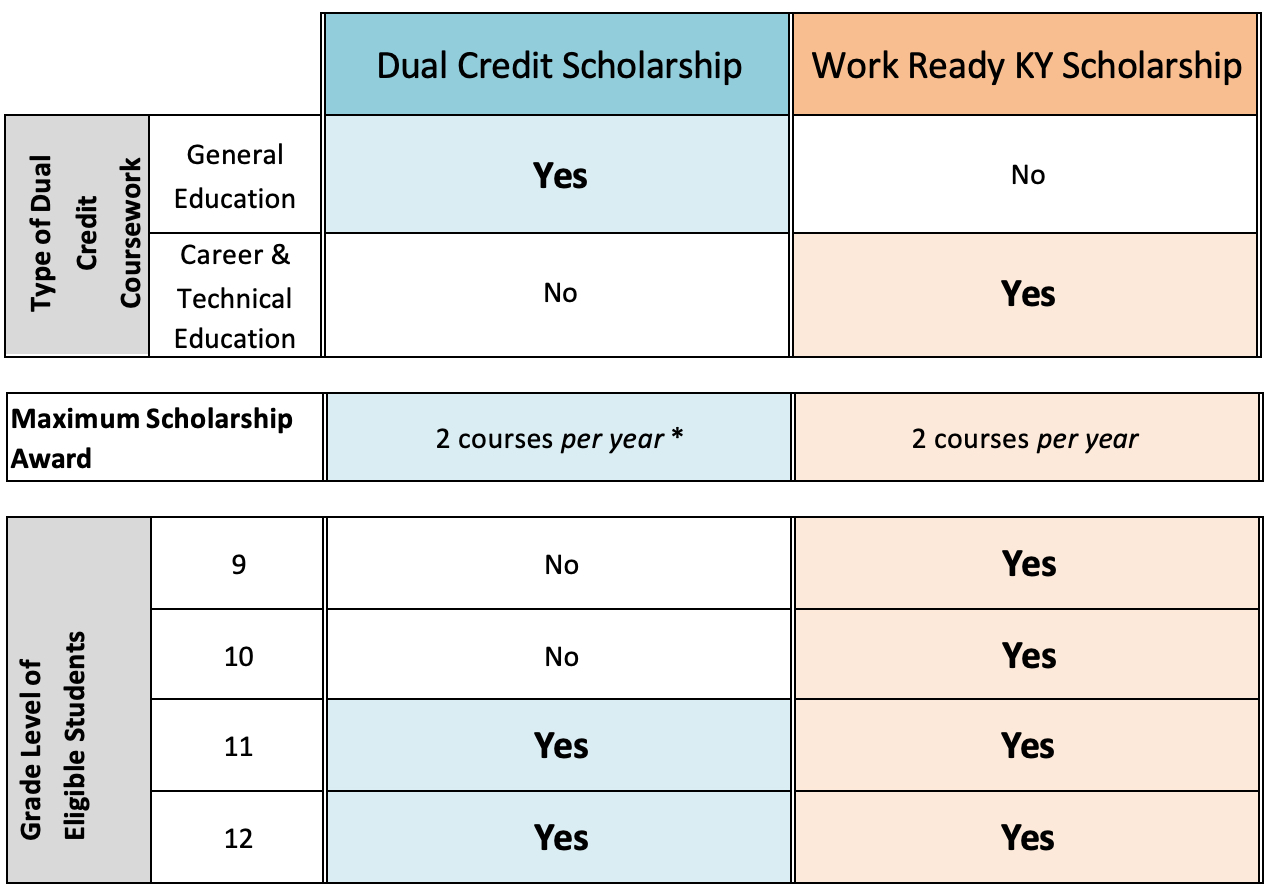 *Dual Credit Scholarship eligibility has been increased to pay for two courses each year instead of two courses per student. The change is only in effect during the 2022-2023 and 2023-2024 academic years.
Students may take additional dual credit courses at a discounted dual credit rate by paying out-of-pocket for coursework not covered by the scholarship program. The maximum amount a participating postsecondary institution can charge for dual credit courses during the 2022-2023 year is $91 per credit hour.
The student will begin the scholarship application process with their high school. The student will then be contacted by KHEAA directly to complete the application process on the KHEAA website. Students will be notified by KHEAA if they are awarded the scholarship.
Students must submit their scholarship information to KHEAA through MyKHEAA by:
Fall Semester: October 1
Spring Semester: March 1
For more information about dual credit scholarship programs, talk with your high school counselor or see the KHEAA website: https://www.kheaa.com/website/kheaa/dual_credit?main=1